Nothing Ventured - Nothing Gained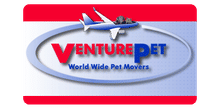 Perk Valley Pet Eatery is proud to carry Venture in Trappe, Pennsylvania. Remember – this is all about your pet. Do not be afraid to ask questions. Make sure you seek information from professionals in the field your question relates to – VenturePet for pet travel - Vets for Pet Health matters. VenturePet are here to ensure your pet has a safe and enjoyable travel experience and you have peace of mind knowing your beloved pet is getting the best transportation service available.
The carriage of pets by air must comply with Airline and Country rules and IATA Live Animal Regulations which specify container design, documentation, labelling and handling requirements. VenturePet ensures compliance with these.
Come visit our family locally owned pet store store in Trappe, PA specializing in quality food, treats, and supplies for cats and dogs.